February 13, 2015 | Posted in Eating Well, No Candy Holidays | By laurensaglimbene
This post may contain affiliate links. Advertisements do not reflect endorsement of content.
No Candy Valentine's Day Ideas
With my commitment to healthy living, holidays are always a challenge.   I feel like Halloween marks the beginning of 4 months of massive sugar addiction, with Easter as a grand finale.  Valentine's day is fast approaching and I'm being proactive about minimizing added sugar. Here's a list of  No Candy Valentine's Day Ideas I love!  Getting ready for Easter?  Check out my tips for a No Candy Easter, too!
Savory Fair
The Heart "Egg in a Hole" by the Today Show's food staff – Use whole-grain bread, add an extra side of scrambled eggs (For protein) and I'm sold.  So cute!
Vegetable Love
Heart Shaped Carrots in Chicken Noodle Soup, from Sophistimom.  I've also seen similar things with potatoes cut into heart shapes and roasted.  Eat your heart out!
Lovely Fruit Salad
I heart this watermelon heart salad from "A Designer Life" blog by Jessica Lea Dunn.  This is a great substitute for sugary desserts!  Maybe you could even take turns feeding each other these juicy hearts.
Bananas For You!
I love this simple and easy Banana message from The House of Hendrix… this is something that I KNOW I can get done, no matter how crazy Valentine's day gets!
Paper Hearts
There are lots of No-Candy Valentine's day cards & gifts for kids to make.  This "I Mustache You a Question" Valentines & Fake Mustaches, from Etsy – you can see more on my No-Candy Holiday Pinboard, including the snake Valentines my son and I made!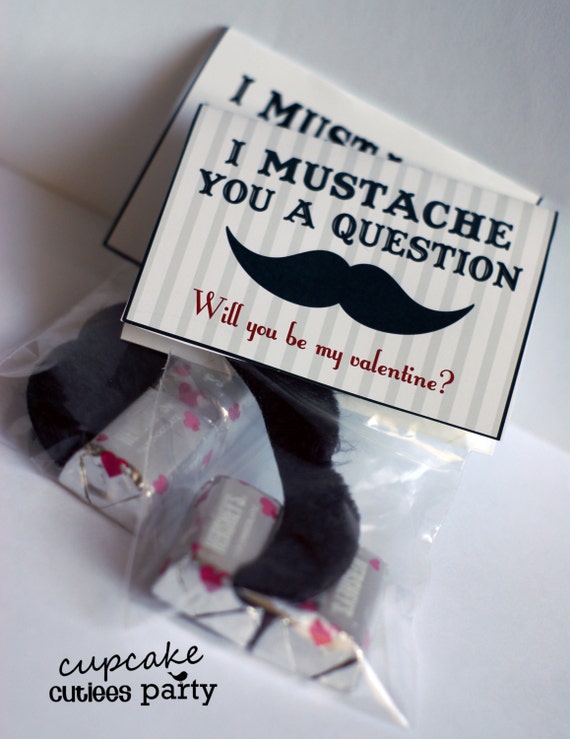 Love Explosion
I love this post from the House of Hendrix, where she details her plan for a "love attack" on her family with 50 creative, inexpensive and fun ideas!